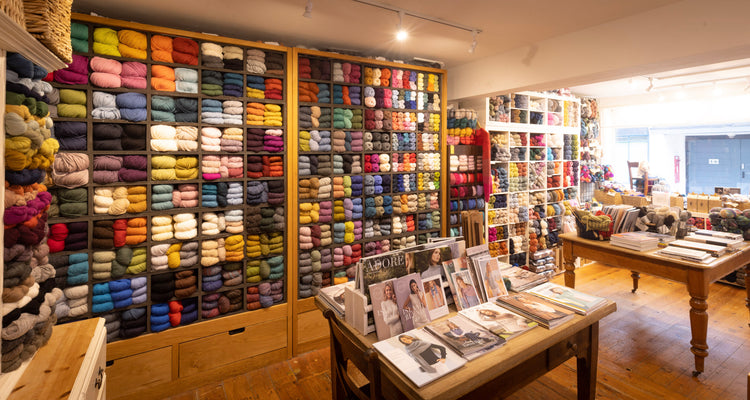 About Oxford Yarn Store

established 2012
An epicentre of Oxford's yarn-craft community for over a decade
Specializing in natural fibres and British wool, Oxford Yarn Store is an independent shop established in 2012, located in the vibrant North Parade Avenue

We want as many people as possible to discover the joy of knitting and crochet, and believe that a local yarn shop should be welcoming, supportive and stimulating for all.
We also understand that not everybody can get to us so we take pride in offering a slick online shop.

Alongside our yarns and notions, we offer a wide range of workshops, social gatherings and special events with guest speakers.
Tracability
Nothings Perfect; we don't pretend products are quality or sustainable just because they are 'natural'. That's why we are working to trace every one of our yarns so we can all make informed choices.
Championing British Wool
Our textile industry has a long and rich history rooted in wool. Native breeds produce some of the highest quality yarn we have seen. Keeping things local drastically reduces air miles whilst supporting British farmers.
Sustainability
From packaging and energy use, through to the suppliers we work with, we are continuing to reduce our impact. Knitting/crochet embodies slow fashion, reducing waste and promoting sustainable, personalised garment creation. We are here to help you stop buying and start making!
Inspiring Creativity
Our shop is a hub for people to share ideas, learn new skills and discover that special pattern or yarn that sparks the next project, or even your very first.
A Safe and Welcoming Space
All are welcome here: we pride ourselves on being your friendly local shop (even online!).
Ethical Sourcing
Alongside our mission to trace every product, we stock brands that can guarantee the highest levels of animal welfare.